Published November 30, 2017
2018 Nissan Pathfinder: your family will want to check it out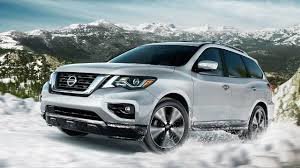 The 2018 Nissan Pathfinder is back this year without too many changes, the model having been significantly updated last year. When Nissan decided to update their Pathfinder in 2017, they tweaked the engine to get even more power out of it, they updated the infotainment system, and they improved the midsize SUVs design.
These improvements are back this year, and what buyers get when they opt for a 2018 Nissan Pathfinder is a midsize SUV that covers every base.
An engine that can tow while keeping fuel economy in check in the 2018 Nissan Pathfinder
The 2018 Nissan Pathfinder is powered by a single engine that truly offers everything you could ever want with its perfect combination of fuel economy, smoothness, power, and towing capacity. Indeed, the 2018 Pathfinder's 3.5-liter V6 engine delivers 284 horsepower and 259 pound-feet of torque which means it can tow up to 6,000 pounds.
That fact is made even more impressive by the V6's towing capacity which is below 9.0 liters per 100 kilometers on the highway with both all-wheel drive and front-wheel drive. Part of that impressive fuel economy rating is explained by the 2018 Nissan Pathfinder's standard CVT XTronic automatic transmission which is quite simply one of the most refined in the industry.
Offered starting at just $32,998, the 2018 Nissan Pathfinder comes standard with automatic braking which serves as your guardian angel should you be distracted and not notice a vehicle suddenly braking ahead of you.
A vast interior in the 2018 Nissan Pathfinder
The 2018 Nissan Pathfinder features a vast cargo area that can hold more than 2,000 liters when both back rows are folded flat. With just the third row folded flat, the 2018 Nissan Pathfinder can still hold more than 1,200 liters, and with all seats in place the Pathfinder still offers 453 liters of cargo space. That means that even if all 7 seats are filled, there is still room for everyone's bag.
And thanks to a standard EZ Flex seating system, the 2018 Nissan Pathfinder can carry any object almost regardless of size easily.
To learn more about the 2018 Nissan Pathfinder, contact us today at Vickar Nissan!